Sometime back, my niece, who lives in Brooklyn, wanted a nasal piercing, so we embarked on a mission to search the internet for the finest shop that provides exceptional services.
Lessons learnt from our research are once you identify a place, you need to check their reviews on the website, check their policy on bookings and appointments and, just in case, do as much consultation before settling on a shop.
Essentially don't just settle for any piercing shops without thorough knowledge about their service and products.
Here are some of the best-selected piercing shops in Brooklyn.
1. The End Is Near
View this post on Instagram
The End Is Near is a Brooklyn staple and a must-go for all your piercing services.
It is a warm, welcoming studio that offers custom professional piercing services. They also carry a beautifully curated collection of jewelry specializing in body jewelry basics gold and a fine gem.
They have a fantastic staff committed to helping the clientele choose and maintain their Piercing and a comfortable atmosphere.
If you want to get a great experience coupled with expertise in crafts and also the venue that provides the best vibe, the End Is Near is definitely a worthy recommendation.
Address: 429 7th Ave, Brooklyn, NY 11215
Contact +1 (347) 335-0846
2. Club Maui Tanning &Spa
Club Maui Offers Tanning, Custom Spray Tanning, Cosmetology, Tattoo & Tattoo Restoration, Permanent Makeup & Body Piercing
Since 1990 Club Maui Tanning & Spa has been an essential part of the Kings Highway area of Brooklyn.
It has been a favorite place to tan ever since & it is known to its loyal customers as a friendly, family-like place.
Recently renovated and remodeled, they offer a pleasant and safe piercing experience by a famous tattoo artist – a fully licensed master with more than 20 years of experience.
Their pricing policy is clear and transparent, and the customers always know, what they pay for is what they get.
Address: 1703 Kings Hwy, Brooklyn, NY 11229
Contact:  +1 (718) 375-1580
3. Crown Ink Studio
View this post on Instagram
If you need an excellent piercing while in Brooklyn, you can visit crown ink studio, they have professional staff who will help you with your piercing needs and even make suggestions.
You can particularly look out for Anna; she has amazing recommendations when it comes to piercings.
But the team, in general, has very talented individuals with their unique illustrative styles.
Their prices are affordable, and they also provide legit products (saline solution) for cleaning, the staff are knowledgeable, and you will learn how to care for your Piercing.
Address: 559 Nostrand Ave Brooklyn, NY, 11216-2786 United States
Phone: (347) 750-5751
4. Inka NYC
Inc NYC is a tattoo and body piercing parlor located in Brooklyn.
You find talented and specialized artists proficient in traditional American and oriental designs; they are also good at coverups and provide fine jewelry.
You can make Inka NYC your next tattoo and piercing destination; check their website and make your bookings in advance.
Address: 594 Rogers Ave Brooklyn, NY 11225
Contact : (347) 627-7801
5. Club Inked Tattoos and Piercing
View this post on Instagram
They have the best and most professional staff who are knowledgeable and take their time to do their course on you.
The atmosphere is favorable as Kevin takes his time to receive everyone and welcome them with a warm heart. They also have a clean space and good music playing in the background.
You will get very patient piercers and you will leave the premises satisfied with your tattoo.
Address: 1556 Myrtle Ave Brooklyn, NY 11237
Contact Call now (347) 979-9656
6. Iris Piercing Studio and Jewelry Gallery
View this post on Instagram
It provides the highest quality body jewelry and clean technique along with excellent care. Iris piercing boosts, giving the best experience in a comfortable and stylish environment.
Here you will find  variety of collections of jewelry imported from worldwide.
Iris team practice a professional, safe and clean piercing environment and be sure that the equipment used during Piercing or jewelry change is 100% disposable.
They also have a policy for children where they can only be pierced in the company of their guardians, and their parents have to provide a birth certificate, or minors can provide valid ID to prove they are over 18yrs.
Address: 238 Metropolitan Ave, Brooklyn, NY 11211
Contact : +1 (929) 337-8538
7. Banter Brooklyn
View this post on Instagram
If you are ahead with the trends or lost to the classics, you will find quality earrings, chains and charms that make you iconic.
In essence, Banter is where they keep it real with ethically sourced stones, sterling,10k and 14k gold and diamond.
Their services include Piercing Consultation (getting help styling your look or planning your pricing), Ear Piercing (getting your earlobes stuck up with the finest jewelry), Kids Piercing, and Cartilage Piercing, Piercing Follow-Up.
You can also shop the jewelry to get it fast online, and if you have questions and comments about your order or Piercing experience, you can always contact them and share your reviews.
Address 5148 Flatbush Ave, Brooklyn, NY 11234
Contact : +1 (718) 252-3468
8. Electric Anvil Tattoo
View this post on Instagram
At Electric Anvil tattoo meet Jose Padilla who joined  the body modification industry in 2011 and has since been piercing professionally since 2013 after clearing an intensive apprenticeship in Madison WI
He moved to New York, where he has been working proficiently to showcase his piercing skills and also comes with the best jewelry, exceptional aseptic technique and precision to every Piercing.
You have to be 18 years and above to get a piercing at electric anvil tattoo.
Address 648 Franklin Ave, Brooklyn, NY 11238
Contact +1 (718) 636-6360
9. Studio Enigma
Studio Enigma is a professional piercing shop. At studio enigma, you must make an appointment before visiting the facility. You can walk-in or schedule an appointment online.
You are also required to check in 15 minutes before the appointed session commence to provide ample time to look into the jewelry, and children have to be accompanied by their guardians.
They also have policies and guidelines on COVID -19 that you might want to look at before seeking further services.
Address: 70 Avenue U, Brooklyn, New York,11223, US
Contact : 7182666612
10.  Infinity Tattoo Inc
View this post on Instagram
Though its name suggests tattoos, it also offers piercing services.
They have a professional team for tattoos and Piercing, and you won't be disappointed when you visit them.
The owners are tattoo artists Lou reed and Keith Tobilski.
Bart Mackee does the Piercing. You can always check the website for further information and see the reviews to ascertain whether they fit your expectations.
Address: 614 8th Ave, New York, NY 10018
Contact : +1 (212) 398-2598
11. Ahimsa Piercing Studio and BVLA Fine Jewelry
View this post on Instagram
This piercing spot is the place to go if you are in Brooklyn and spoilt for choice since they majorly specialize in piercing services and have been in operation for the last  35 years.
The team is knowledgeable  about BVLA fine gold, jewellery and gemstone that can be found anywhere.
They have the best staff, and from the moment you enter their premises, you will get a welcoming atmosphere; they are easy and will patiently answer all your questions.
They are a private shop hence you have to make the booking early and be sure to be there on the appointment day.
Additionally, they are super clean and well-kept considering these times of the pandemic.
Address: 296 Smith St. Brooklyn, NY 11231
Contact: 929.305.3400
12. Live By the Sword Tattoo
View this post on Instagram
At Live by the sword tattoo studio and Piercing, you get what you want when you want it, meaning you can walk in, and they will readily attend to you.
The focus is simple they offer a great tattoo and piercing experience at an affordable price.
Whether it is your first Piercing or seasoned Piercing, the staff is ready to work with you to give you a fun, safe and easy experience.
The piercers utilize the latest freehand techniques, single-use equipment, and various hypoallergenic jewelry options in surgical steel titanium and solid gold.
They also have rich rewards where you earn $10 for every $100  you spend.
Address: THE MINI MALL 218 bed FORD AVE Brooklyn NY 11249
Contacts : 718-355-8543
More about live by the sword tattoo
13. Forever Ever Ink Inc
Forever ever ink is a studio shop that operates in Brooklyn. They offer tattoo and piercing services, both of which have incredible staffs who are knowledgeable about their skills.
They relay pretty good reviews from their customer; however, the experiences might not be the same. Thus you have to check their website before booking an appointment.
Address 1051 Flatbush Ave, Brooklyn, NY 11226
Contact +1 (718) 284-4029
14.Amsterdam Ink Tattoo Gallery
View this post on Instagram
This tattoo and a piercing studio is based in Brooklyn and co-founded by Amsterdam, a tattoo artist. it has been in operation for both tattoos and piercing for more than 10years.
The studio has fabulous customer service. Friendly, experienced and knowledgeable staff! The shop is kept professionally clean and sanitized constantly, and they also take precautions to minimize the spread of COVID.
You can visit them on their website. You need to understand that customer care is essential for any business to thrive, and Amsterdam really cares for its customers, which is a great deal for some.
Address: 527 Nostrand Ave, Brooklyn, NY 11216
Contact +1 (347) 365-7386
15.So Gold Studios
View this post on Instagram
So gold studios are the brainchild of Casi Lopez-March. She has the record of spending the last 18years piercing throughout New York and long island.
She uses an approach that involves working with the client's anatomy and overall aesthetic to create balance and style.
So gold studios uses the highest quality of jewelry that is made from the best around the world and comes with a lifelong guarantee
The studio works only with appointments and no walk-in services are allowed this enables maximum attention and one on one service. The staff are also a professional team with many years of Piercing and an eye for style.
Address:387 Manhattan Ave, Brooklyn, NY 11211
Contact: +1 (718) 389-4310
16. Blazin Skinz Tattoo
Blazin Skinz is a tattoo and body piercing shop situated in Brooklyn.
Whether you need to pierce your navel, your Norse or have a septum, the staff are ready to invest in their efforts to make sure you live the place satisfied.
They are also accommodative, particularly Jose: He understands and takes his time to answer questions. and the team also keep a very safe environment; additionally, the Piercing heals nicely.
Jose also gives detailed instructions on aftercare and has a way to calm your nerves when you feel anxious.
Address; 445 Knickerbocker Ave, Brooklyn, NY 11237
Contacts :+1 (718) 455-8052
17. Piercing Pagoda
View this post on Instagram
Piercing Pagoda has an antiquity of serving jewelry customers with its extensive assortment of commonly priced 14K and 10K gold chains, bracelets, charms, rings and earrings, and a variety of silver and diamond jewelry.
Piercing Pagoda also provides piercing services and remains the leader in ear piercing. They specialize in piercings alone; hence they excel at offering the exemplary service  to their customers
You can always check their website for more information, including the address and contacts, if you are interested in visiting them.
Address: 5100 Kings Plz Brooklyn, NY 11234
Contacts: (718) 252-9686
18.Claire's
View this post on Instagram
For more than  40 years, Claire's has always been the go-to destination for ear piercing. They have  highly trained piercing staff who deliver a safe, sterile and easy experience.
They also provide body jewelry from nose to navel if you wish to buy from them, they got the looks for every style.
The best thing about Claire's is they offer free ear-piercing every day, but you have to make an online booking and purchase the kits for after care services.
Amazingly, the aftercare kit is their brand and is dermatologist and pediatric tasted; thus, it's safe for use.
Address:476 86th St, Brooklyn, NY 11209
Contact : +1 (718) 630-5895
19.Hollywood Tattoo and Body Piercing
They have highly skilled professionals and only use the best quality piercing jewelry available; whether it's exotic or 18k gold body jewelry, they have it all.
Holly wood body piercing is proudly the best for ear piercing in Las Angeles, but it also has its branches in  Brooklyn.
They strive to ensure a  positive personal character showcasing professional ethics and high artistic ability; hence, they employ only the best staff for their positions.
Piercing prices may vary depending on the type of jewelry, and bookings are made online. Also, be ready to pay a deposit if interested in case you need to cancel; you have to do it within 48hrs.
Address: 165 Covert St, Brooklyn, NY 11207
Contact :(347) 295-2850
20. Body Art And Soul
View this post on Instagram
Body art offers world-class customer service. In addition, they engage in doing tattoos and piercings. All this is done with carefully selected modern techniques.
The team also involves artists who are ready to commit to providing only the best services for the customers.
All the artists are professionals and creative in their work. Therefore, they provide an enabling environment where the customers can relax as they are being attended to.
You can also check their reviews on their website, and you only find the best ratings and reviews. This is enough to convince you to book an appointment with them.
Address :95 Morgan Ave, Brooklyn, NY 11237
Contact: +1 (347) 227-8667
21. Vinny's Tattoo and Body Piercing
Vinny's tattoo and body piercing are popular among the residents of Brooklyn. Vinny is the guy in charge, and he is attentive to details, and the Piercing and tattoos come out flawless.
He is friendly and allows you to search for designs on the computer if you have no idea, or you can email him in advance. He also advises and gives an opinion on the exciting techniques.
You can get piercings at Vinny's, but he is well known for eyeing good tattoo designs.
Address: 2553 E 14TH St Brooklyn, NY, 11235-3903 United States
Phone: (718) 368-0438
22. Black lotus tattoo
View this post on Instagram
They dedicate themselves to providing a great piercing and tattoo experience by devoting entirely to the quality of their work and individual client care.
They also uphold a comfortable environment by keeping good vibes positive attitude, and a  clean, inviting atmosphere.
Missy, who comes from a well extensive medical background, works towards ensuring you get the proper piercing procedure, while Corina is the jewelry specialist.
You require an in-person consultation for any piercing. It is the discretion of Missy and Corina to deny any piercing.
Address: 212 Greene Avenue, corner of Grand. Brooklyn, New York, 11238
Phone: (718) 622-1577
23. Harlem hype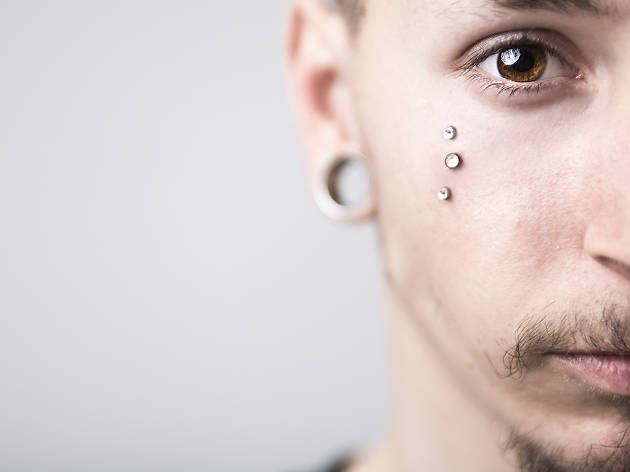 Harlem hype is a premier tattoo company that also deals with body piercings. It features great tattoo artists as well as exotic body piercing.
The company strive for perfection, and the body piercing speaks for itself. Therefore, they only provide Piercing that is best suited for their clients.
They operate in a safe and personal environment free from service delivery worries.
You can always check their website for more information about the appointment and consult further on what best suits you.
Address 51C Willoughby St, Brooklyn, NY 11201
Contact +1 (718) 666-8315
Conclusion
These piercing shops in Brooklyn aim to provide quality items, give the best vital aftercare products that encourage rapid healing, and offer an attractive and accommodative environment.